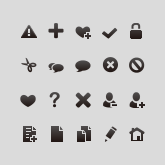 Mini Icon Part 1
Mini Icon Part 1 comes with two color themes: deep and light. So you can use this icon set no matter your interface is dark or bright.
It contains 60 mini and cute icons which rendered at 16 px, 24 px, 32 px and 48 px. We spent much time on this icon set to guarantee them sharp and clear. The final effect is wonderful, especially at 16×16 px.
The Mini Icon Part 1 is available in transparent png, ico, icns and vector ai.
Download it now: Mini Icon Part 1


Download it now: Mini Icon Part 1